Sample Prep
PCR UV hoods use shortwave ultraviolet to control unwanted transfers of nucleic acids.
The systems bring together UV irradiation, antimicrobial stainless steel and aluminum to create a dual-attack environment against PCR contaminations.
In addition to standard PCR UV² models, PCR UV³ HEPA systems with integrated three-stage filters are available.
NGS preparation
adapter block for BioShake mixers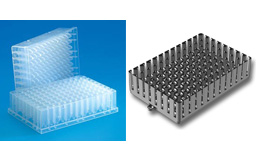 From now we offer a new adapter block for "AB gene 96-well Storage Plate, round well, 0.8 ml" for the BioShake mixers.
These plates are used in molecular biology for storage of samples as well for assay set-up. Numerous customers are using these plates in the course of NGS for library preparation with "TrueSeq Kits" of Illumina. Also sample preparation for Illumina "Nextera Rapid Capture Enrichment Kits" is processed in these plates. Plates are called "MIDI Plate" and they are shaked with a frequency of 1,800 rpm.
SpeedMill PLUS
In contrast to most homogenizers available in the market, the SpeedMill PLUS homogenizes samples by vertical movement but not by rotation. With this technique the input power is converted into disrupted forces highly efficiently. Therefore, only little heat is generated.
handheld laboratory mixer
Powerful handheld laboratory mixer LabMix Mini 201 is designed for mixing and homogenizing of different samples in standard laboratory tubes.
Thermo shaker
High-speed mixer and thermal mixer for small and very small volumes in microplates and reaction tubes
The BioShake series allows for the first time high precise and efficient mixing in the microliter scale for a wide range of applications. Assays in microplates or reaction vessels can be realized fast and safe with using adjustable speed of 200 up to 3,000 rpm. The BioShake mixing-technology is obviously more robust, vibration free and needs less maintenance compared to classical mixers.
Replace the Ice Bucket !

MaestroGen eCooler provides an innovative, portable and eco-friendly cooling system for your daily experiments.

Maestrogen designs a Peltier cooler with a portable cooling box with excellent temperature maintenance and UltraRapid Cooling Efficiency: Cooling down from R.T. to below 4 degree C within 10 minutes!
Mixing and incubation or cooling are essential steps of molecularbiological techniques. This unit is shaking your samples efficient with an orbit of 3mm and keeps temperature in a wide range from 4 to 99°C. The microprocessor controlled electronic and high quality peltiers guarantees temperature accuracy and - constanty. Thermomixer is easy to use by 9 programms with 9 steps each. 4 easy interchangable blocks ensure for necessary flexibility during the daily work in the lab.

temperature range: 4 - 99°C
temperature stability: +/- 0,5°C
shaking speed: 300 - 1500 rpm to set in steps of 50
heating speed: 5°C/min
cooling speed: 4°C/min from 99 to 20°C; 1°C/min from 20 to 4°C
all given data given for temperature range from 15 bis 35°C
optional available with RS 232 interface
weight: 5,9 kg inclusive block
dimensions 190 x 190 x 325 mm
power 125 Watt , 230V/115V AC, 50/60Hz

Block for 96 x 0,2 ml tubes

Adapter for 60 x 0,5ml Tubes

Block for 24 x 1,5 ml tubes

Block for 24 x 2,0 ml tubes
...and the perfect mate to for;
This economical microprocessor controlled dry block heat bath can run either two tube-blocks or one microtiter block. The digital LCD readout monitors the temperature in REAL-TIME and displays the target temperature. The heating range goes from 5 °C over room- temperature to 150°C at a temperature stability of +/-0,2°C.
A space-saving and low cost combination of centrifuge and vortex in new design. Stopping long ways between centrifugation and vortexing.
Tubes can be vortexed directly through the opening in the lid.
centrifugation speed 2.400 rpm at 700 x G
vortex speed 2.400 rpm
autostopp, when lid is open
continuous and impulse operation
weight: 2,1 kg, dimensions are 190 x 235 x 125 mm

The centrifuge - vortex mixer is supplied with two rotor-discs, one for 12 x 0,5 ml and 12 x 0,2 ml and one for 12 x 1,5 ml tubes.