Semi Automated Nucleic Acid Isolation System
with enhanced usability by multichannel pipettes.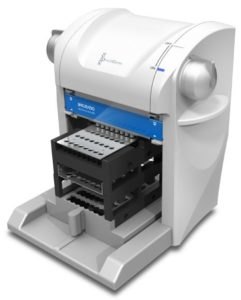 Fits in your

Biosafety Cabinet -

Suitable for virus or contaminants samples!

No need for centrifugation throughout the entire isolation process
QuickGene Mini 480 and Mini8L are high throughput compact systems requiring no centrifugation in the isolation process, giving less strain to samples and enabling rapid nucleic acid isolation.
DNA/RNA can be easily isolated from various samples including whole blood, tissue, cells, plants, virus and others.
By using the optional Adaptor parts, the Mini8L can be converted into a "Mini480" for high-throughput nucleic acid isolation (max. 48 samples per run) from small volume samples (ex. 200 μl of whole blood, 5 mg of mouse liver).
Mini_8Lcatalog_106_1_1.pdf
Mini480_catalog_97_1.pdf
Automated Nucleic Acid Isolation devices -Auto12S/Auto24S