Looking for Multiplex-fluorescence and chemilumi Western Blot detection?
Published: Thursday, 17 September 2020 09:17

QuickGene isolation systems
Published: Tuesday, 11 February 2020 09:17
QuickGene Mini480 & Mini8L
Published: Friday, 29 November 2019 10:59
Semi Automated Nucleic Acid Isolation System
with enhanced usability by multichannel pipettes.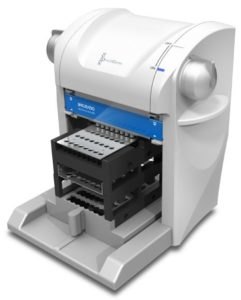 Fits in your

Biosafety Cabinet -

Suitable for virus or contaminants samples!

No need for centrifugation throughout the entire isolation process
ORCA Multitasking Workstation
Published: Thursday, 27 June 2019 11:46

Stain-free and standardized analysis of protein 1D gels
The stain-free, sensitive protein detection, analysis and digital reporting is automatically performed by the ORCA Analyzer within a few seconds.
Do you need to analyze more than 8 samples ?
Published: Monday, 19 February 2018 11:26

AdvanBlock™-EIA
Published: Tuesday, 02 May 2017 09:25
AdvanBlock™-EIA is a novel blocking solution, optimized to enhance specific antibody-antigen interactions for ELISA. This all-in-one blocking solution and antibody incubation buffer is designed to decrease non-specific binding caused by low quality antibodies and serum matrix effects
QuickGene-Auto 240L
Published: Friday, 13 January 2017 09:40
QuickGene-Auto 240L is the first automated system using QuickGene's unique membrane technology for isolating larger quantities of DNA without additional purification process.
With this automated system, a large volume of whole blood genomic DNA (2 ml) can be isolated from primary tube samples to final DNA storage tubes ensuring a cross-contamination-free process.
First Preview of LabImager PR
Published: Wednesday, 24 August 2016 14:49
The LabImager PR is a brand new reader for routine diagnostics. It automatically counts colonies on plates and digitizes and sort them. The first prototype is specialized in digitizing up to 20 plates in one stack. It uses an integrated camera to digitalize the plates and analyze them within the same device. After counting, the reader is able to seperate the plates into two different stacks – one with positiv plates and the other one with negative plates.
Pressure Injection Cell
Published: Thursday, 27 August 2015 09:33
Pack your own LC/MS capillary columns
What's the best way to dispense small-volume liquid samples in a controlled manner? Rely on the Next Advance Pressure Injection Cell. Often called a bomb loader, the Pressure Injection Cell is invaluable for two applications:
1. densely packing nanobore capillary columns with solid-phase particles for LC/MS;
2. precisely infusing microliter samples into mass spectrometers without additional transfers, wasted sample or contact with metallic surfaces which adsorb negatively charged molecules.
Velum Precast gels
Published: Monday, 16 March 2015 11:29
Velum™ precast gels offer perfect protein separation and a novel experience of convenience in handling. Velum™ gels are film-supported and do not need any glass plates for gel electrophoresis and only a small amount of buffer (included with the kit) is required.
Velum™ gels are ideally suited for Red- and near IR-fluorescence protein imaging (T-Red, T-iRed, T-Rex) with a tenfold better signal to noise ratio compared to other gels.


190215_PG_Velum_SAR_eng.pdf
The most simple blotting method after electrophoresis for
Velum™ gels is the contact blotting with the Beo Dry Blotter
After the electrophoretic procedure the blotting membrane is directly placed on the gel-surface.With the help of dry blotting paper and pressure the proteins are forced to migrate on the membrane.
FLASHBlot Transfer Buffer,
Published: Monday, 24 March 2014 10:39
Enhanced protein transfer for improved sensitivity

Advansta's new FLASHBlot Transfer Buffer allows scientists to achieve increased sensitivity in their Western blots. The buffer provides increased transfer efficiency of all proteins, including large molecular weight proteins that are notoriously difficult to transfer completely. It also increases protein retention on the membrane, so it's easier to detect low-abundance proteins.
Beo Dry blotter
Published: Tuesday, 26 November 2013 15:03
Sometimes it may not be the speed that matters but the result...
The Beo Dry Blotter transfers protein simply based on capillary action with phenomenal results in terms of transfer quality and efficiency. The blotting does neither requires power nor additional buffer. And you can process up 18 blots derived from mini gels or 3 blots from large gels (e.g.Velum™ 1D, IEF or 2D gels) at the same time.
Key features
• Easy to use
• High quality of protein transfer
• No additonal buffers, requires no power
• Takes up to 18 blots from mini gels or 3 large blots from 2D gels
Beo Dry Blotter product guide.pdf