Imaging
Cellvizio Dual Band
In vivo Imaging at Cellular Resolution
Cellvizio Dual Band is a versatile, easy-to-use fluorescence imaging system. It covers the increasing need for cellular-level images in molecular imaging combined with non or minimal invasiveness for longitudinal studies. The instrument features simultaneous dual wavelength excitation and detection to monitor dynamically multiple parameters in the living animal.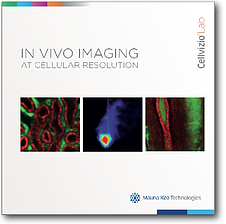 Download the Cellvizio Lab Product Brochure !
CAWO IMAGING PLATES
CAWO DIGIT MAGNUM Series

CAWO DIGIT imaging plates for digital radiography feature high absorption efficiency, excellent homogeneity and short response time.
With a new coating technology the surface is very smooth and gives an improved signal-to-noise ratio.


Even the anti-halor layer forms a perfect barrier against laser light. On the other hand it easily lets through the stimulated light.

With the newly developed EBC (electron-beam-cured) top coat CAWO DIGIT imaging plates have a superb resistance to mechanical wear and extensive immunity to chemical cleaning solutions.

Additionally a new adhesion layer guarantees for a superior durability.

 
PhotonIMAGER Optima at Karolinska Inst.
We are excited to announce the first installation of the The New Photon Imager Optima soon is to take place at Karolinska Institute -MBB!
The Optima is a uniquely modular instrument for detecting, localizing, quantifying dynamic bioluminescence or fluorescence signals both in vivo and in vitro.
Photon Imager 3D module now available!
The 3D module is now available! The Photon Imager now has 4 dimensions - 3 spatial and one temporal, for the detection, localization and quantification of the signal. Acquisitions are fast and signal analysis is greatly helped with the new M3 Vision 3D. Contact us quickly for more information, whether you wish to upgrade your Photon Imager or you are interested in the complete Photon Imager 3D system.